Expert bicycle fit service – East of England, Essex and Suffolk
Further faster, better.
Lifecycle UK provides expert bike fit advice and know how.
We can get your riding position just right with the latest Morphologics system bike fit.
It will work wonders for your riding!
What is the MorphoLogics Postural System?
Conceived to create an optimal union between rider and machine, the MorphoLogics Postural System is the realisation of more than 20 years' of detailed positioning analysis done at France's Lyon Center of Sports Medicine.
Unbiased data, without subjective interpretation.
A full decade was spent conducting the research and development for the system as we see it today. All of the research and development was independent — to ensure unbiased and scientifically sound data, unspoiled by preconceptions of what works on the bike.
Ten anthropometric measures for the bike fit.
The MorphoLogics system uses 10 anthropometric parameters : Stature, inseam, shoulder width, shoulder height (left and right), pelvis width, femur length (left and right), arm length (left and right), to which are added the two foot measurements obtained by measuring the distance between the heel and the first metatarsal articulation.
Simple. By design.
On the surface, our approach seems quite simple. We don't have a bike sizing machine, a fit session is quick, and we don't measure a rider with a myriad of different tools and techniques. This is by design.

MorphoLogics bike fit at Lifecycle UK — the process.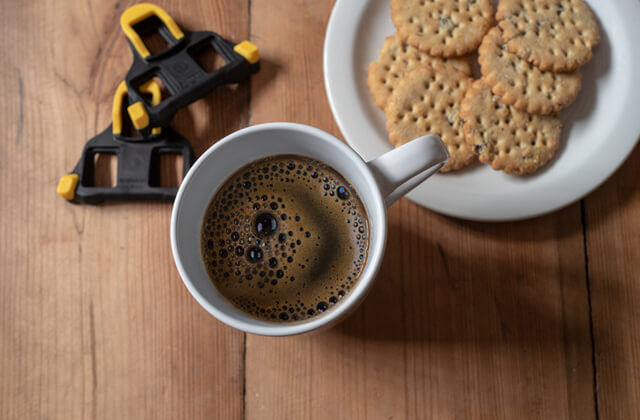 Bike chat and body assessment to understand your riding and ambitions.
A full MorphoLogics Postural fit, including comprehensive physiological measurements.
Bike presented to our technicians and make necessary adjustments for perfect fit.
Position and adjust cleats to your measurements.
Final fit and check in the fitting studio.
Have a good ride!
Science based and widely researched
The MorphoLogics fit system is based on over 10 years of lab studies across a base of more than 65,000 fit sessions across all cycling disciplines and performance levels.
Independently conducted research monitored physiological responses to a wide array of cycling dynamics.
World class, top level amateur, club racer, and tourist athletes were tested for muscular endurance, VO2Max, optimal power output, optimal cadence, optimal oxygen uptake, respiratory rate, blood-lactate, and aerodynamics.
A precise and objective bike fit
Many bicycle fit methods can be subjective, depending too much on "feel" and the skills of the individual bike fitter. Various fit technicians using the same method may still end up with different results — not very scientific.
Extensive testing, research, and practical analyses serve as the foundation to the MorphoLogics Postural System. More than 65,000 fit sessions boiled down to provide the most precise, reliable, and quantifiable data affecting your performance on a bike.
The MorphoLogics system doesn't depend on the skill of the individual fitter and the varied results that method may provide.
Rather, the system is stable on the front-end, depending on a detailed rider interview, information on the rider's equipment and just 9 key body measurements. It is easy to conduct a fit, efficient, and accurate.
Less Energy = Better Performance
The MorphoLogics system is based on the physiological principle that a rider going the same speed, with the same power output while using less energy will perform at a higher level.
A more efficient position limits fatigue, favours the proper muscles and body systems and leads to a better result.
A custom fit - one that places you and your machine in perfect harmony is the best way to realize your riding potential. Each rider's morphology, level, history, and riding discipline demands a specific riding position.
The proper set-up improves efficiency, comfort, performance, and aerodynamics while ensuring injury prevention.
A range of bike fit options to suit your requirements
This is the best way to ensure the perfect fit for performance, comfort & endurance if you are looking to purchase a new bike or get a custom bicycle made.
Buy a bicycle from us or get a custom bike build and you get the full Morphologics fit and application to the bicycle for £120.
Fit & application to bicycle
The best money you will ever spend on your ride. If you already own a bike and are looking to achieve the best riding position — this is the fit for you.
You get a full MorphoLogics Postural fit, a record of you physiological data and application of the fit to an existing bike from £220.
We understand that the body does not exist in a vacuum - it's dynamic and changing, you will gain and/or lose weight, fitness, core strength and flexibility over time.
So a bike fitting needs to understand that your position may also evolve over time.
The fit only service gives you all the data from a full postural fit for £160.
Application to another bike
Already had a fit and want to apply it to another bike?
This service applies your existing postural fit data to another bike from £80.
Have a bike-fit question?
If you have any questions about a bike fit call us on 01449 744467 or drop into the shop.
We can help with optimising your bicycle for performance or simply being comfortable on a long ride.
And don't forget we are open seven days a week.
Google Review
"Had a bike fitting done by Life Cycle and was very impressed. They were very thorough and was I was very happy with the results. They really seemed to know what they were doing."